Rhythm, Trumpet Duet II, 4MJ427WU23
Free Ship + No Tax (Lower 48)

Details
The sound and the extraordinary look of the Trumpet Duet II are sure to astound you. It plays one of 30 melodies on the hour with remarkable sound quality and clarity unmatched by others. The faux burl wood makes this model appealing to any home ensemble. The Comfort Swing pendulum, holding 4 crystals, only magnifies the beauty of the Trumpet Duet II. Clock is battery quartz operated.
Small World Musical Motion Clock
Swarovski® Elements
ABS Frame
Demo Button
Auto Night Shut-Off
Volume Control
On/Off Switch
1 Year Warranty
3 C Batteries Included
30 Melodies
15.7"H. x 11.8"W.
3.5 Lbs.
UPC # 009136427231
Video
Click play button to watch!
Pictures
Click on image(s) to enlarge!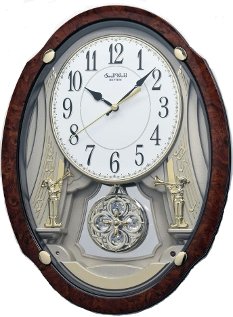 Songs
Click any play button to hear song!
12 Folk Songs/Classical Themes | Song Set 1
Ballets des Champs-Elysees
Jesu, Joy Of Man's Desiring
My Bonnie Lies Over The Ocean
12 Classical Themes | Song Set 2
Sonata fur Klavier K. 545-1
Tale From The Vienna Woods
6 Christmas Carols | Song Set 3
We Wish You A Merry Christmas