Rhythm, Joyful Remington, CRH204UR06
Free Ship + No Tax (Lower 48)

Details
Dressed in a beautiful oak case with corner overlays, the Joyful Remington is a classic tambour style clock. The clock's face in done in a rustic look with Arabic numberals. Plays one of 28 melodies on the hour . . . 6 Religious Hymns, 6 Chrismas Carols, or 16 well-known melodies. Clock is battery quartz operated.
Wooden Musical Clock
MDF + Oak Frame
Demo Button
Volume Control
Auto Night Shut-Off
On/Off Switch
11.1"H. x 18.03"W. x 5.08"D.
5.5 Lbs.
1 Year Warranty
2 AA Batteries Included
On/Off Switch
28 Melodies
UPC # 009136204061
Video
Click play button to watch!
Pictures
Click on image(s) to enlarge!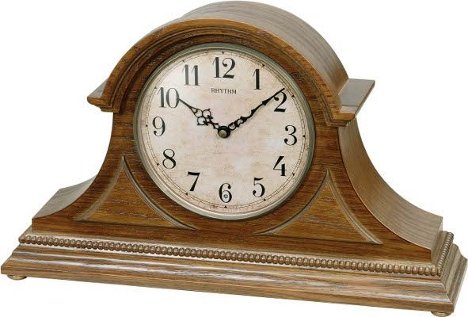 Songs
Click any play button to hear song!
6 Christian Hymns | Song Set 1
What A Friend We Have In Jesus
16 Folk Songs/Classical Themes | Song Set 2
Sonata fur Klavier K. 545-1
Ballets des Champs-Elysees
My Bonnie Lies Over The Ocean
6 Christmas Carols | Song Set 3
We Wish You A Merry Christmas